There are many voices in the contentious debate about the Middle East conflict. Among the most intolerant and hateful is the viewpoint promoted by "Israeli Apartheid Week."
The extremism of the Apartheid Week organizers can be better understood when looking at some of the speakers from past Apartheid Weeks.
Omar Barghouti, a featured speaker during Apartheid Week 2009, doesn't bother to hide that his goal is to rewind history by returning the Jewish people to the dark era in which being a Jew meant everywhere being an ethnic minority. With chilling frankness, Barghouti admits that he seeks to replace Israel with what he describes as "a unitary state, where, by definition, Jews will be a minority."
Not only is this immoral goal opposed by those who would be most harmed (Jews), but it also runs counter to the International Covenant on Civil and Political Rights, the international community and human rights leaders. (See more here.)
Palestinian writer and outspoken critic of the anti-Israel boycott movement Samir el-Youssef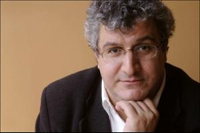 Samir El-youssef, a Palestinian writer who criticizes both sides of the Arab-Israeli conflict and genuinely seeks reconciliation, says Barghouti's calls to boycott Israel are "full of questionable assumptions, biased assertions, reductive and dismissive statements, condemnations and accusations against those who disagree with him." Barghouti has "other concerns than peace on his mind," he adds.
Norman Finkelstein was another extremist participant in Apartheid Week 2009. Just before his scheduled lectures on campuses in New York City and Atlanta, the Teheran Times published a venemous interview with Finkelstein in which he called Israel a "vandal state," an "insane state," a "lunatic state" and a "terrorist state."
And those were the nicer things he had to say about the country. He also referred to the Jewish state as a "satanic state" from "the boils of hell" which "is committing a holocaust in Gaza." In contrast to the venom he directs toward Israel, Finkelstein has expressed support for Hezbollah, a violent, racist group listed by European and North American countries as a terror organziation because of its attacks on Americans, its deadly bombing of a Jewish community center in Argentina and other lethal strikes targetting civilians. Hezbollah leaders have
explained
that they seek to destroy Israel, force most Jews out of the country, and (not unlike Barghouti) relegate the remaining few to minority status.
Not to be outdone in the hate department is Apartheid Week 2009 speaker Ronnie Kasrils, who has argued that Israelis are "baby killers" that "behav[e] like Nazis."
According to the European Monitoring Centre on Racism and Xenophobia's
list
of "ways in which anti-Semitism manifests itself with regard to the state of Israel," all of the above statements by Barghouti, Finkelstein and Kasrils are manifestations of anti-Semitism. The list includes:
"Denying the Jewish people their right to self-determination (e.g., by claiming that the existence of a State of Israel is a racist endeavor)";
"Applying double standards by requiring of it a behavior not expected or demanded of any other democratic nation"; and
"Drawing comparisons of contemporary Israeli policy to that of the Nazis."
To learn about some other recent Apartheid Week speakers, visit our
Useful Links
page.